Harmony and elegance: these are the elements that characterize Thermarium Spa, a refined facility located inside the Hotel Argentina in downtown Fiuggi.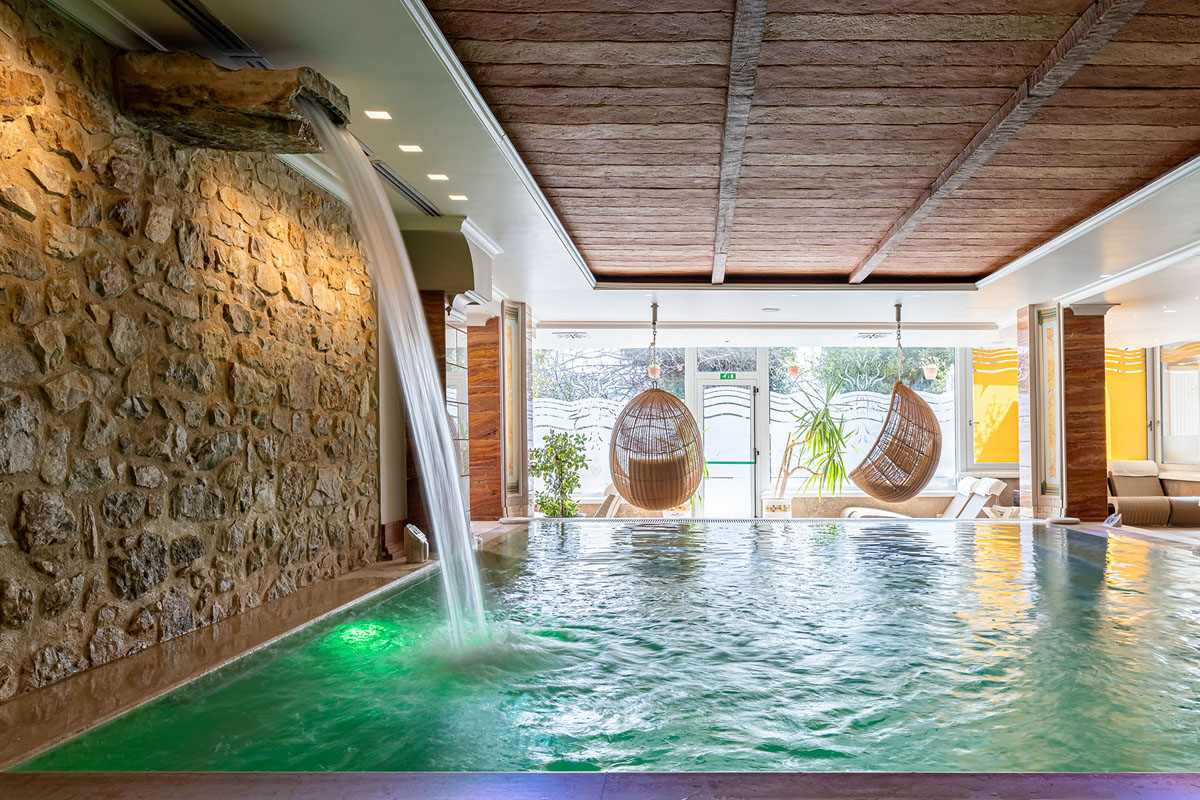 Harmony and elegance: these are the elements that characterize Thermarium Spa, a refined facility located inside the Hotel Argentina in downtown Fiuggi.
The magic of the environments captures guests' minds and regenerates them, awakening their senses.
Relax with the beautiful whirlpool, envelop yourself in the warmth of the sauna and steam room, tone your body with the Kneipp path.
Don't miss the new Relax Room with its central fireplace where you can relax with music therapy. Allow yourself to be pampered by emotional showers so as to regain lost energy and restore inner balance.
Latest addition is the Infrared Sauna, the magic solution to warm and relax our body. An exclusive place for one's remise en forme.
The outdoor swimming pool, with its Water Blade and children's area, is open from May to September and is available free of charge to hotel guests.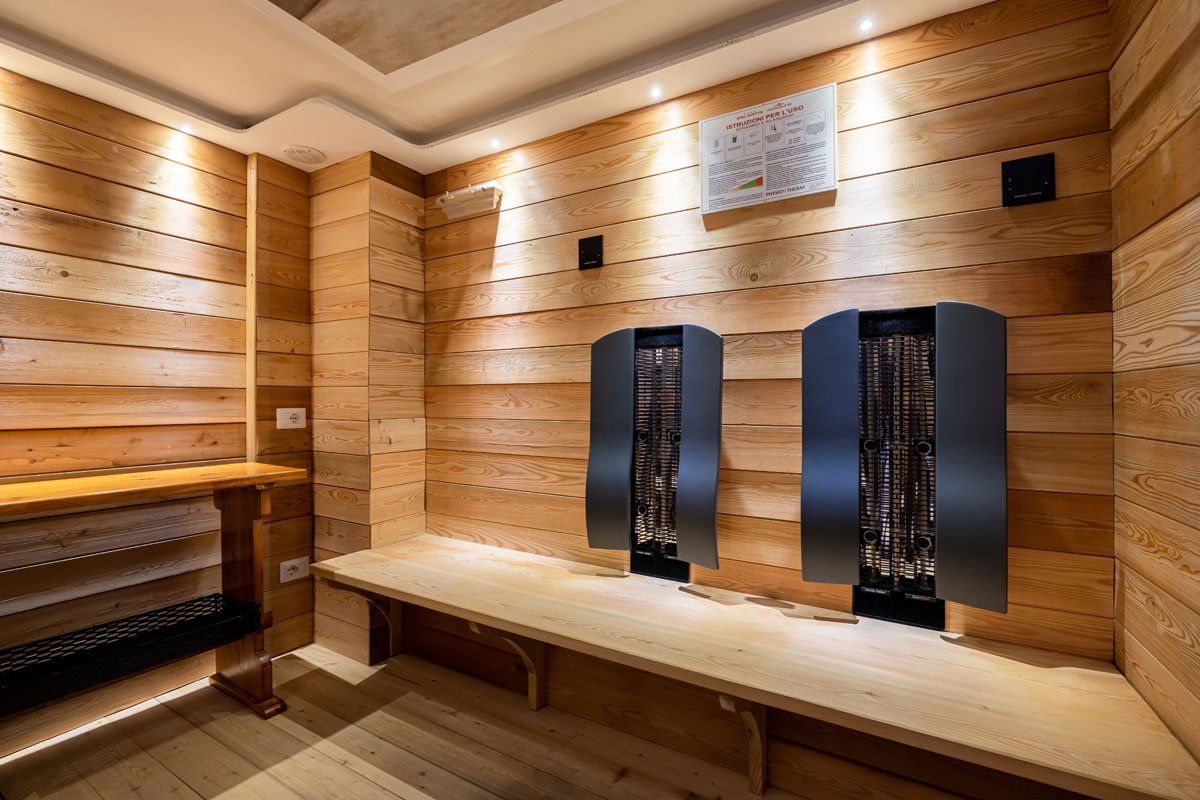 Entrance to the SPA entitles you to:
Use of indoor heated swimming pool with whirlpool bench and loungers, geyser and heated water blade,
Kneipp path, steam bath, Finnish sauna, the newest infrared sauna, experience showers,
new Relax Zoone with music therapy, access to solarium and outdoor pool when in use,
Use of SPA KIT (towel, bathrobe and bonnet), consumption of infusions and herbal teas.
And here is what you will find waiting for you:
This path is practiced by passing through pools that deliver water at different temperatures.
River stones are placed on the bottom for natural foot massage. Special nozzles deliver water to oxygenate the lower limbs.
Legs are dipped down to the calf. The end result is improved circulation, tissues become oxygenated and regenerated. After the treatments there is a feeling of lightness and well-being.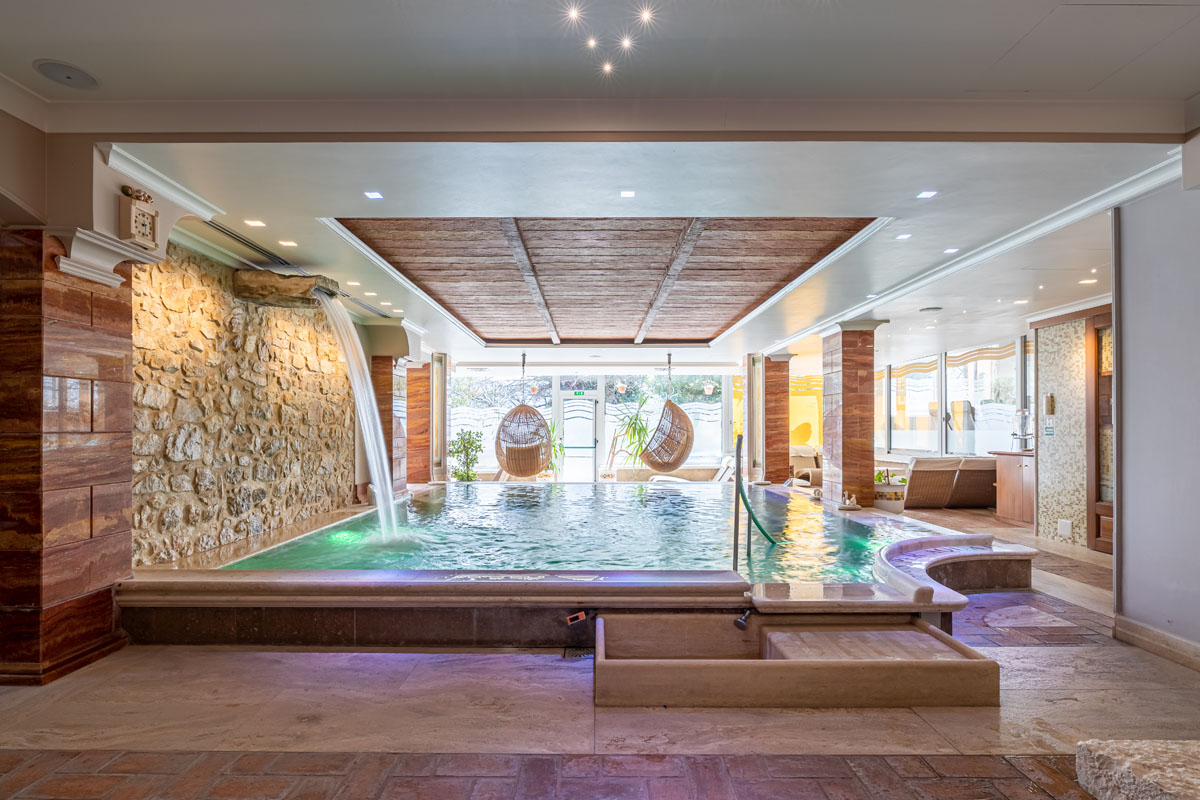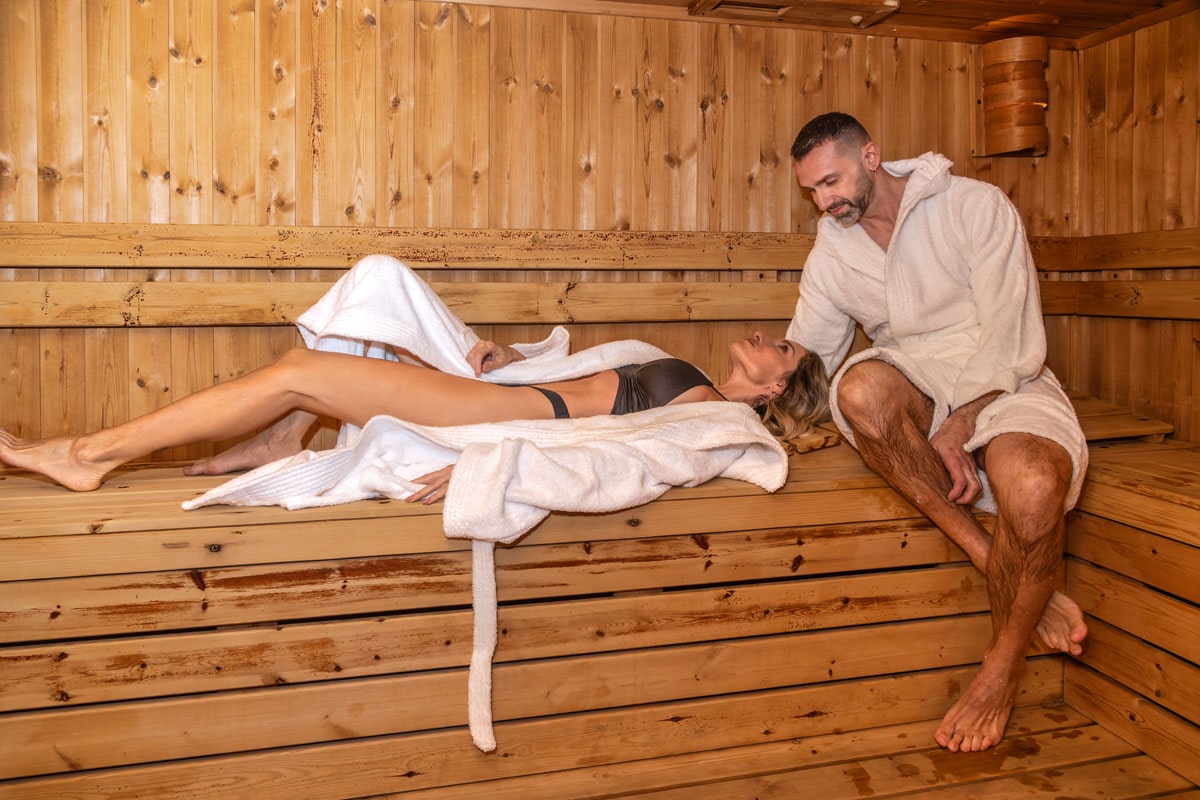 Immerse yourself in an atmosphere dense with steam and scents, the Finnish sauna is synonymous with natural relaxation, which allows the elimination of waste, through the perspiration of the skin, you will purify yourself by pampering yourself in a dreamlike atmosphere. You will eliminate skin impurities giving it softness and elasticity
The infrared sauna is a dry heat bath that provides a pleasant and relaxing feeling of well-being, similar to that experienced by exposing the body to the sun.
The beams provide constant heat, thus avoiding heating and cooling intervals.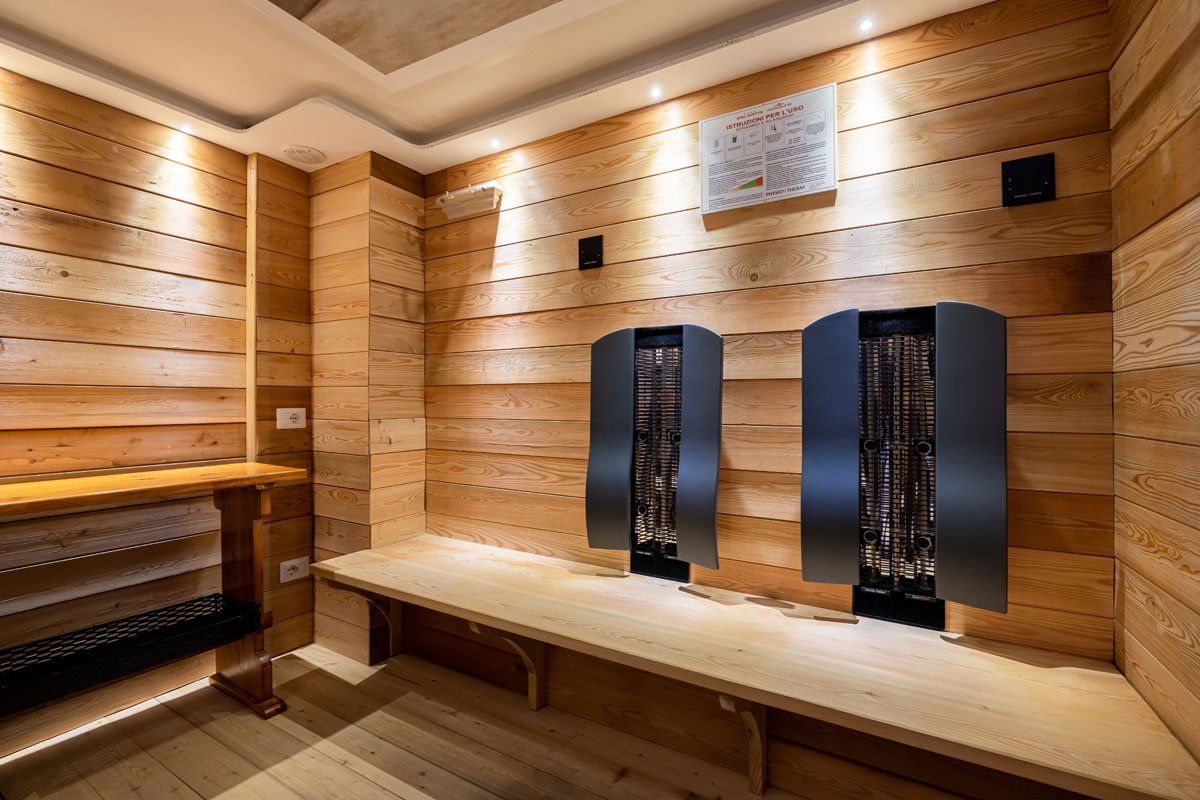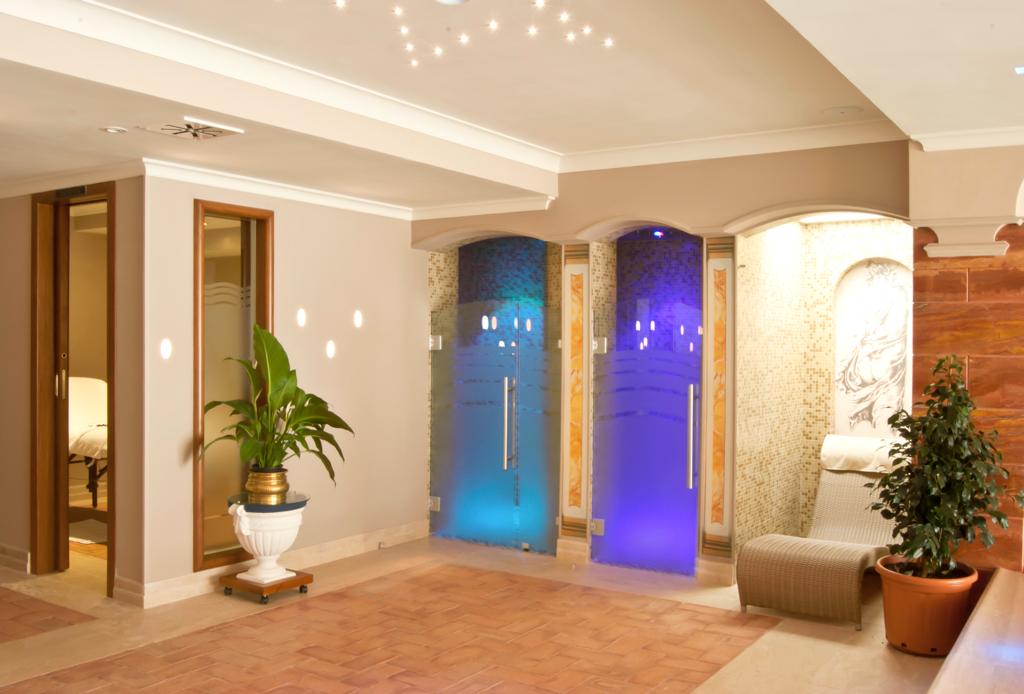 Thrilling you through a feeling of total well-being with a simple and natural shower is a prerogative of our spa. This moment is an integral part of our wellness journey, with color therapy, diffusion of essences and a massaging water jet over the entire body.
Immerse yourself under a micronebulized shower of ultra-fine water droplets enriched with aromatic, luminous, and sonic sensations to enhance your polysensoriality
The Turkish bath has ancient origins dating back to the Egyptians, Greeks all the way to ancient Rome. According to these peoples, the steam bath invigorated and regenerated not only the body but also the spirit. The synergistic action of steam and heat is a panacea for the body as it loosens stiffened muscles, rids the body of toxins accumulated during the day, generating new vigor and well-being.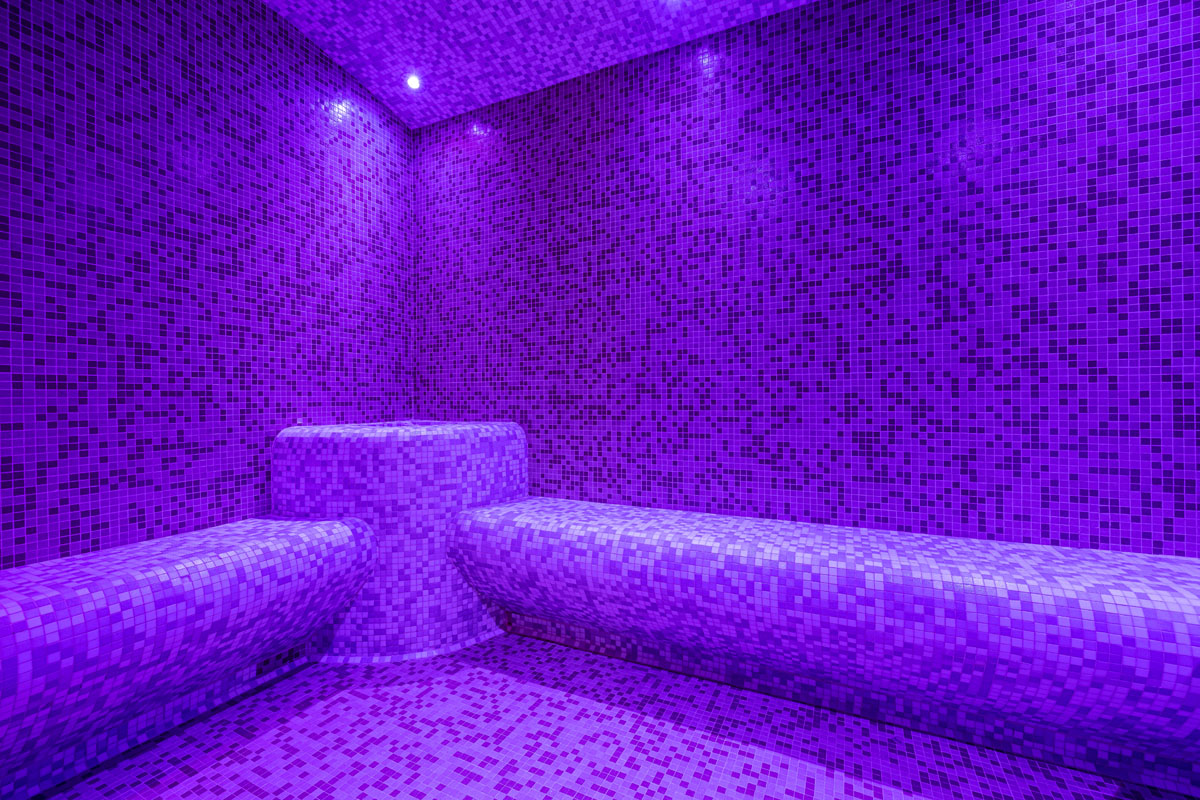 Treat yourself to a whirlpool bath, to regenerate body and mind.
The benefits of hydrotherapy converge to give you relaxation pleasure and well-being, in the always-warm tub you will invigorate yourself with the waterfall jet, immersion sessions and light effects that will create a unique atmosphere.
Outdoor swimming pool and solarium
Dive into our outdoor pool, and enjoy the enchanting view of upper Fiuggi, tone your body, and between strokes, your mind will benefit as well And finally let the warmth of the sun embrace you and make you more beautiful. Is open from May to September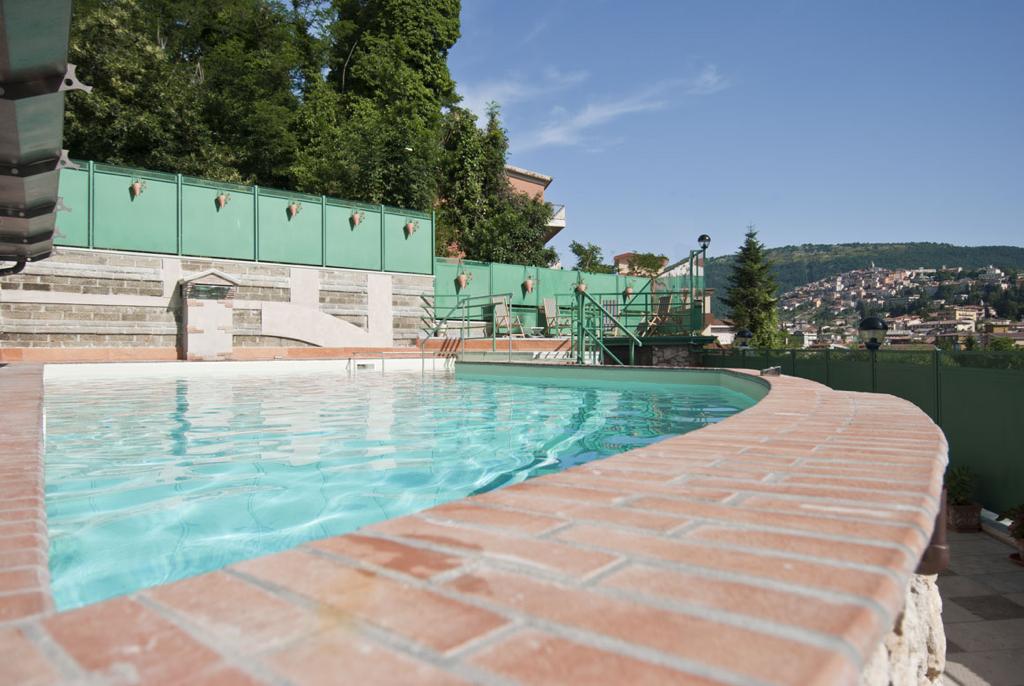 YOUR WELLNESS JOURNEY IS ABOUT TO BEGIN
Let us advise you on the most appropriate treatment and immerse yourself in ultimate relaxation.
Ideal path for a perfect spa
Experience a wonderful day of relaxation by following our spa guide and find out what you need to know about the ideal spa path to best relax.
Pool with whirlpools (with the various whirlpool stations, localized areas of the body are activated, allowing beneficial toning and reactivation of microcirculation).
Turkish bath (pleasant and effective place for relaxation known and practiced since ancient times. The moist heat typical of the Hammām promotes drainage of fluids and elimination of toxins, exerts an invigorating and relaxing effect on the nervous system, and reduces stress. During the steam bath, it is appropriate to cool off using the water from the showers).
Turkish bath (you can continue with a vigorous body wash with black soap and "kessa," the rough glove used to remove dead skin cells: typical Ritual of Arab culture. At the end, one washes quickly in the shower, wraps oneself in a towel and relaxes).
Herbal tea and relaxation
Kneipp path (we invite you to start by walking slowly along the pebble floor. The presence of side whirlpools with the different temperatures, will activate a vascular gymnastics with toning effect, and walking on the floor of stones, will produce an effective and pleasant foot massage that will stimulate venous return).
Swimming pool with whirlpool…
Finnish sauna (a true hot, dry air bath with beneficial therapeutic properties. Through sweating, toxins are eliminated, resulting in brighter skin and more elastic tissues. The high temperatures also promote muscle relaxation, strengthen the immune system, and stimulate metabolism and blood circulation).
Herbal tea and relaxation
a philosophy of well-being
If you are looking for your heart place stop, you have just found it.